Worshipping God Together
Sunday Worship ...................................9:30 a.m.
(Pre-school nursery care available)
Holy Communion the first Sunday of each month
Dennis Anders - Pastor
Coffee and Fellowship........................10:30 a.m.
Sunday School ...................................10:45 a.m. (Sept-May)
Adult Christian Education Class..........11:00 a.m. (Sept-May)
All are welcome!!
Corner of 3rd Ave. and 5th Street
We are now having our service on Sunday Morning at 9:30. Please attend with a mask
We are now putting the entire service in audio on the website
October 2020 newsletter and calendar are also on site under the Media heading.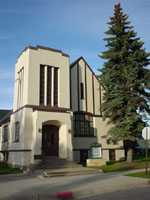 A CORDIAL WELCOME TO ALL!
Our building is handicapped-accessible
Mission Statement
The mission of First Covenant Church is to worship God,
equip people to live in faith, share God's love,
and serve the community around us.