Welcome to First Covenant Church!
It is great to have you share in our worship and other activities.
Worshipping God Together
Sunday Worship ……………………………..9:30 a.m.
(Pre-school nursery care available)
Holy Communion the first Sunday of each month
Richard Gustafson – Pastor
Coffee and Fellowship……………………10:30 a.m.
Sunday School ……………………………..10:45 a.m. (Sept-May)
Adult Christian Education Class……….11:00 a.m.
Sunday, February 26 at 4 p.m.
A time to praise God and be encouraged through song. Light supper (soup and sandwich) to follow.  Plan on this festive evening and invite a relative/friend/neighbor.
All are welcome!!
Corner of 3rd Ave. and 5th Street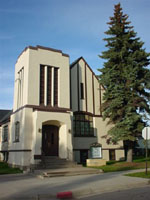 A CORDIAL WELCOME TO ALL!
Our building is handicapped-accessible
Mission Statement
The mission of First Covenant Church is to worship God,
equip people to live in faith, share God's love,
and serve the community around us.