Welcome to First Covenant Church!
It is great to have you share in our worship and other activities.
Worshipping God Together
Sunday Worship ……………………………..9:30 a.m.
(Pre-school nursery care available)
Holy Communion the first Sunday of each month
Richard Gustafson – Pastor
Coffee and Fellowship……………………10:30 a.m.
Sunday School ……………………………..10:45 a.m. (Sept-May)
Adult Christian Education Class……….11:00 a.m.
PASTORAL CANDIDATE AT FIRST COVENANT
Members and friends of First Covenant Church are urged to come on Tuesday, April 25th, to meet our  pastoral candidate and his wife  and hear him preach. We will have a potluck supper at 5:00, followed by a service with the candidate preaching at 6:30. There will be coffee following the service and a question-and-answer time  with the candidate. Members of the church will vote on the pastoral search committee's recommendation to issue a pastoral call to the candidate.
All are welcome!!
Corner of 3rd Ave. and 5th Street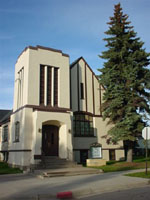 A CORDIAL WELCOME TO ALL!
Our building is handicapped-accessible
Mission Statement
The mission of First Covenant Church is to worship God,
equip people to live in faith, share God's love,
and serve the community around us.