Welcome to First Covenant Church!
It is great to have you share in our worship and other activities.
Worshipping God Together
Sunday Worship ……………………………..9:30 a.m.
(Pre-school nursery care available)
Holy Communion the first Sunday of each month
Richard Gustafson – Pastor
Coffee and Fellowship……………………10.30 a.m.
Sunday School ……………………………..10:45 a.m. (Sept-May)
Adult Christian Education Class…………11:00 a.m.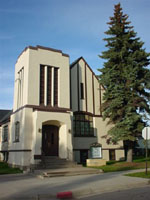 A CORDIAL WELCOME TO ALL!
Our building is handicapped-accessible
Mission Statement
The mission of First Covenant Church is to worship God,
equip people to live in faith, share God's love,
and serve the community around us.
* COVENANT COMMUNITY BIBLE EXPERIENCE*
Join us for an unforgettable journey through the New Testament beginning on September 11th at 11:00 A.M.
Here's a revolutionary idea: let's actually read the Bible. Whole books. In community. It's more doable than you think. For eight weeks, First Covenant Church will explore the New Testament together. We'll read five days a week and share the journey in a weekly gathering. We'll immerse ourselves in every word of the New Testament—understanding it in context, experiencing it in community.